"Bindi"


VCh WTCH DC Castle Butte Bindi CD,RAE,HXBd, HXAdMcMsM,NA,OAJ,OAP,MJP,NFP,CGC, HRDIs,HTADIsgc,HTADIIsc,HTADIII-ge,s ROM "X"
Bindi is our first

AKC

"DUAL Champion"

and is the Third ACD bitch to also earn a

Register of Merit "X"
She is the 9th ACD Bitch to earn a Dual Championship (CH in both conformation & herding)
Bindi was the first Cattle Dog in History to earn the Advanced Herding Masters Title on Cattle and the second dog in AKC History overall!
She is the dog featured at the top of each of our pages nose to nose with the red steer!
She's a very sweet girl, but when it comes to her job, she's all business.
She was bred by Paul and Marilyn Myers of Castle Butte Kennels & has been owned, loved, shown, spoiled and trained by us. She is now retired, but Bindi is leaving a legacy of very good Breed type and hardworking produce in her son & daughters as well as her grand kids.
Bindi has titles in 5 different AKC events as well as the ASCA and AHBA venues. She has herding titles on ducks, geese, sheep, goats and cattle. Because she has excelled in so many different events, Bindi has also earned her VCh or Versatility Championship recognized through the Australian Cattle Dog Club of America. She is the mother of three of our dogs, Dozer, Lash and Belle and is now also a grandmother. Both Dozer & Lash are also Dual Champions and her daughter, Belle is now working on her DC as well.
We consider Bindi our, "Once in a Lifetime" dog. She has done and continues to do everything we ask of her and more!
Check our "News" page and more on "Our Dogs" for Bindi's kids and grand kids accomplishments and more pictures of her on our, "More Fun Photos" page.

Above- Bindi giving a 'warning'
Below-Bindi doing her job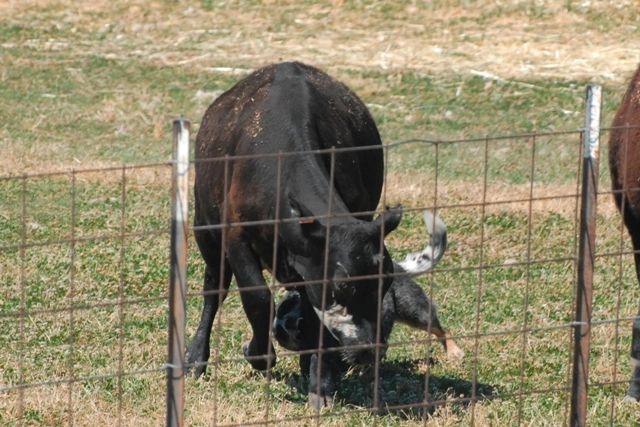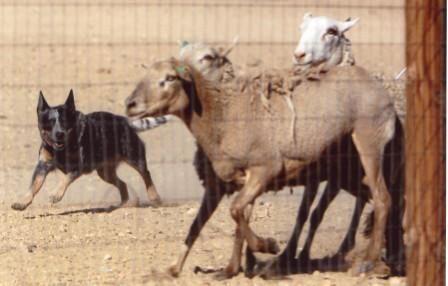 Photo by www.dogsportphotos.com
Photo Above is Bindi working sheep

Below Bindi showing her style in Agililty!
She has now earned her Masters Title in JWW Preferred!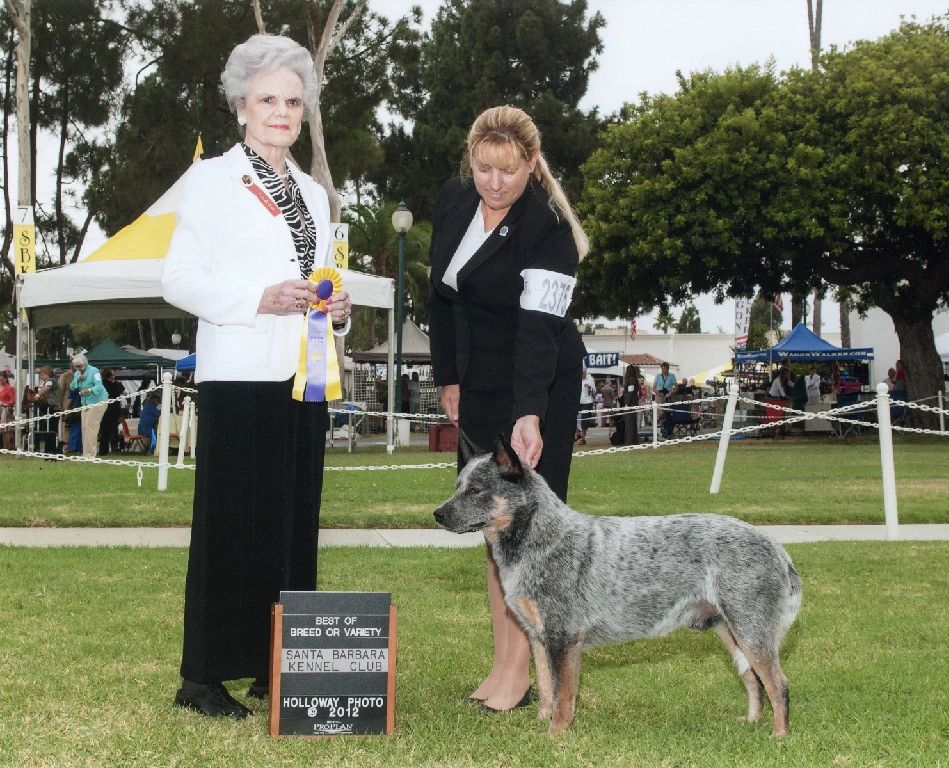 VCH DC Bronze GCH Bar H Blue Bulldozer CD RAE HXAcsM HIAsc HSAdsMcM NJP CGC HTAD-Ic HRD-Ic

"Dozer"
Our Newest home bred, "Dual" Champion and also a Bronze Grand Champion & Versatility Champion!

Dozer is shown above at age 2 going Best of Breed under judge Mrs. Michelle Billings at the Santa Barbara Kennel Club Show
Dozer has also Qualified for the AKC Eukanuba National Championship in 2011 and also in 2012 from the Bred By Exhibitor Class as well as qualifying for the National Owner handler series in 2013 and 2014 & in 2015. In 2014 he was the only cattle dog in the Qualifying top 10 to have both a Herding title and a Conformation Grand Championship! And in 2015 he finished the year as the #2 owner/handled ACD and with very limited showing.
Dozer quickly became a Champion, and a Grand Champion in just a few shows.
He really enjoys obedience and rally and holds herding titles on all stock in the herding arena.
Dozer is by Australian import dog, CH Jabaluka Cattle Buck and out of our girl, "Bindi".


Click here to see Dozer's Pedigree


Dozer & Lisa shown with Judge Mr. William Richard Powell going Owner-Handler BIS at the
Del Monte Kennel Club Show


Dozer and Jesse won Reserve High in Trial on Sheep in Trial #2 under Judge Stacey Helsel at the ACDCA 2013 National Specialty
Left is Judge Stacey Helsel, Jesse and Dozer.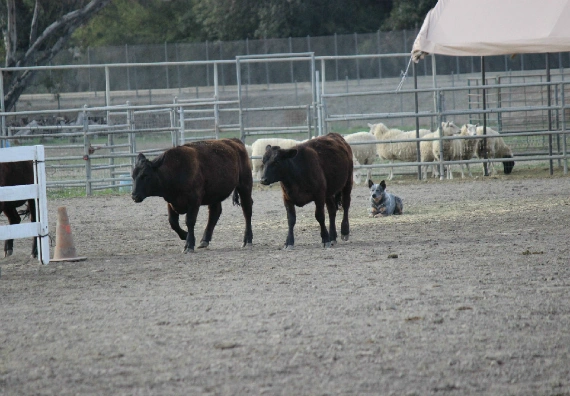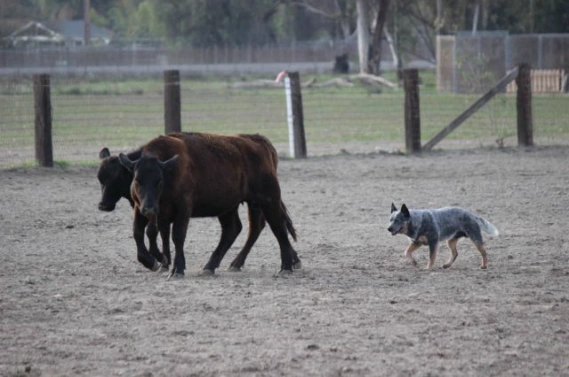 Dozer working cattle above and sheep in photo below
Dozer in Agility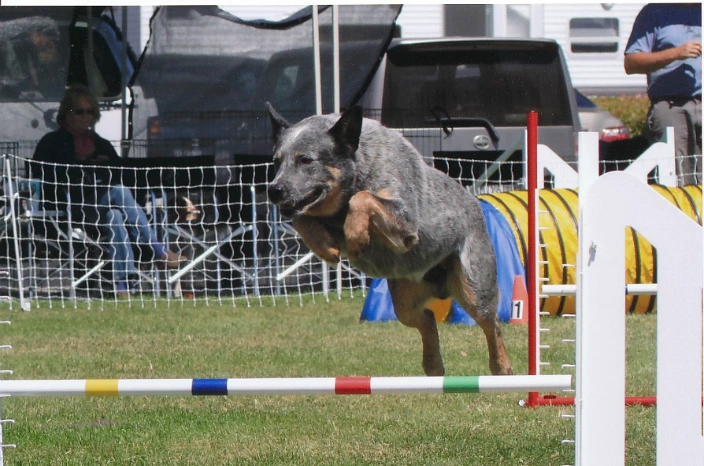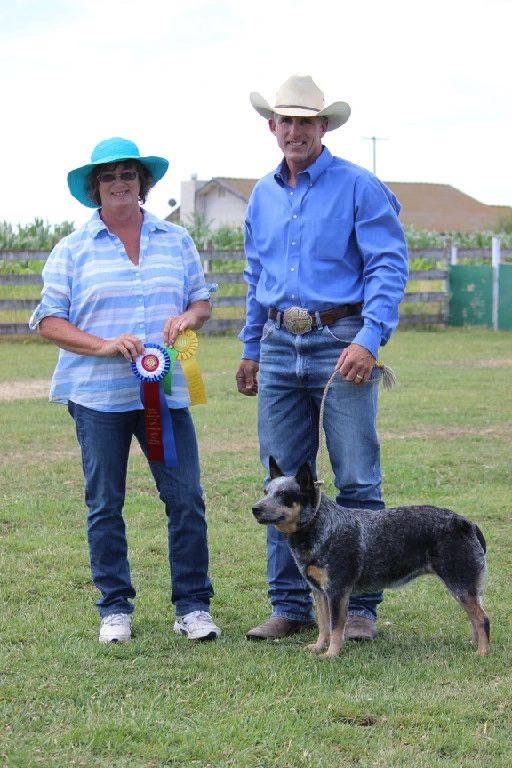 Photo above: Judge Sandy Moore, Jesse and "Lash"

VCH DC GCH Bar H I'm A Cover Girl RE HXBdM HSBdc HXAcdMsM NJP CGC
ATDsc OTDsc STDcsd HTAD-IIs HTAD-Is,ge,c HTD-Ige
"LASH"

NOW A "DUAL" CHAMPION
as well as a Versatility Champion!!!

#10 ACD Bitch to earn a Dual CH behind her mother, Bindi.
Lash is also a home bred Grand Champion and now a DUAL Champion. She has always been owner trained and handled.
She was the first Dog of any breed to earn a Herding Masters Title from the American Kennel Club on Started sheep and also on Started Cattle !
In the Fall of 2014 Lash became First and only Australian Cattle Dog to earn any title on the "B" course on Cattle!
She went High in Trial on the B Cattle Course with a beautiful run and a score of 98 pts

Lash was the #1 Australian Cattle Dog in the Nation from the started level in 2013
#1 Australian Cattle Dog in the Nation from the Intermediate level in 2014
#1 Australian Cattle Dog in the Nation from the Advanced level in 2015

Her sire is CH Jabaluka Cattle Buck and she is out of our girl, Bindi
Click here to see Lash's Pedigree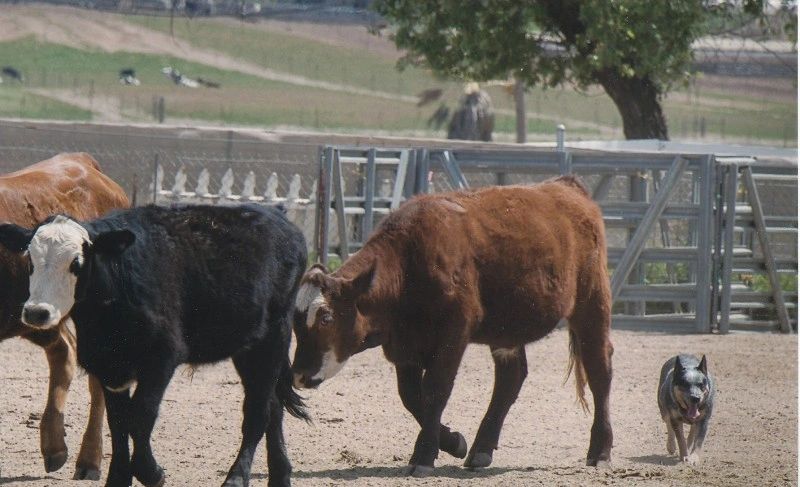 Lash at work on her way to her 95 pt score and High in Trial !

Photos taken by Cathy Modica of Dogma Photography

Below: Lash and Jesse go High in Trial on Cattle inTrial #1 at the 2013 National Specialty
under judge Stacey Helsel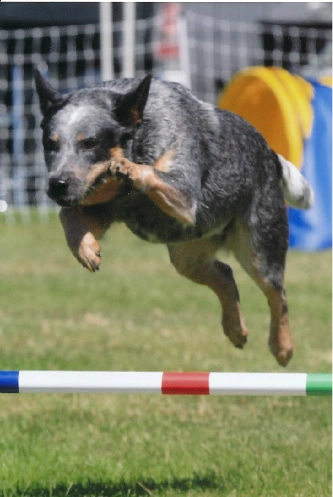 Above: Lash showing her versatility in Agility and also below

Lash 1st Place win in Novice Rally at the 2013 ACD
National Specialty with a perfect 100 pt score.
Lash & Lisa shown with judge Mrs. Pauline Andrus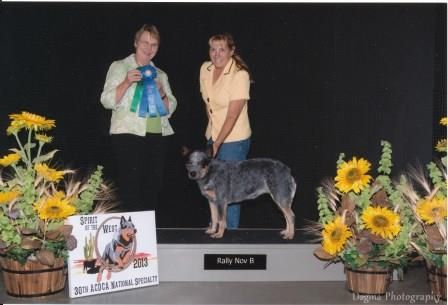 "SHILOH"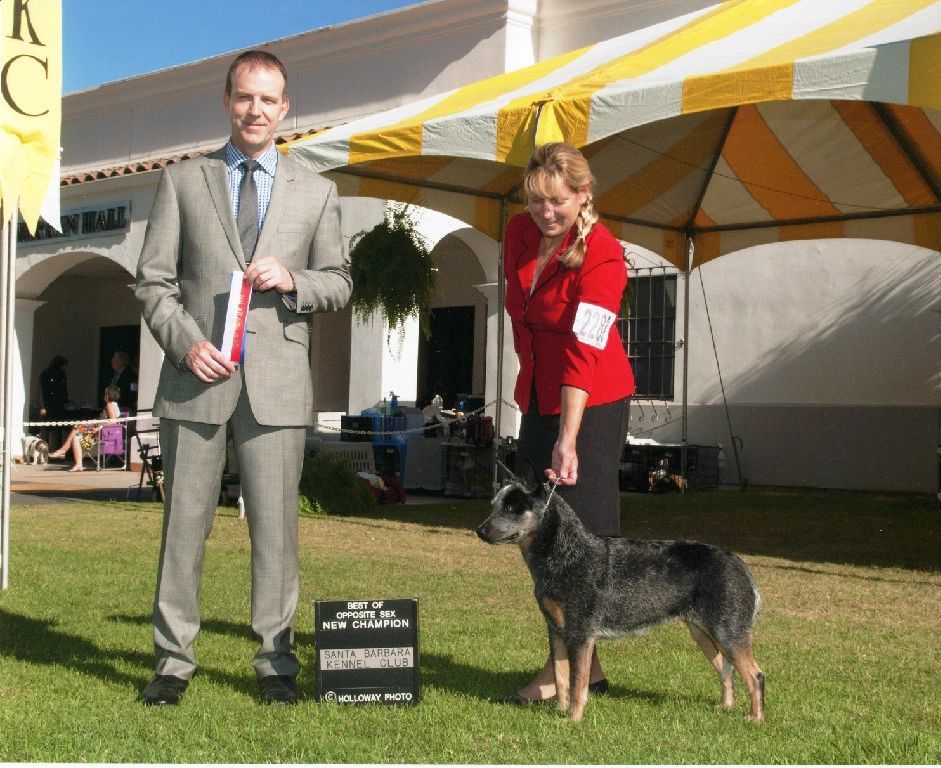 VCh DC GCH Castle Butte Shiloh RE HXAdMsM HIAdM HSBdM NAP NJP CGC
HTD-Ige HTAD-Is,ge HTAD-IIge
"Shiloh"
A Grand Champion and now a "DUAL CHAMPION"
#11 Dual Champion behind our girls, Bindi & Lash & also a Versatility Champion!
Shiloh shown earning her new conformation Championship under judge Mr. Darren Bowey from Australia
Below: Shiloh goes Reserve High in Trial on Sheep in Trial #1 with owner/handler Lisa at the 2013 ACDCA National Specialty under judge Debbie George (shown left) This was accomplished after several months off from herding to have her first litter of puppies.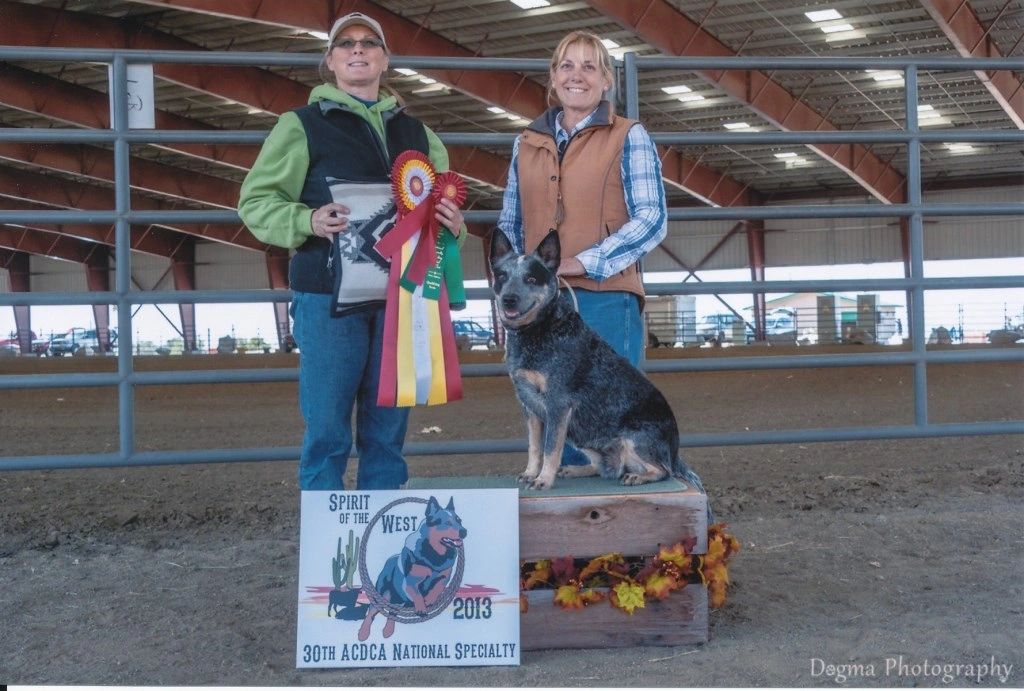 Below
Judge: Sherry Lee, "Shiloh" and Lisa shown with
Shiloh's new DUAL CHAMPION Ribbon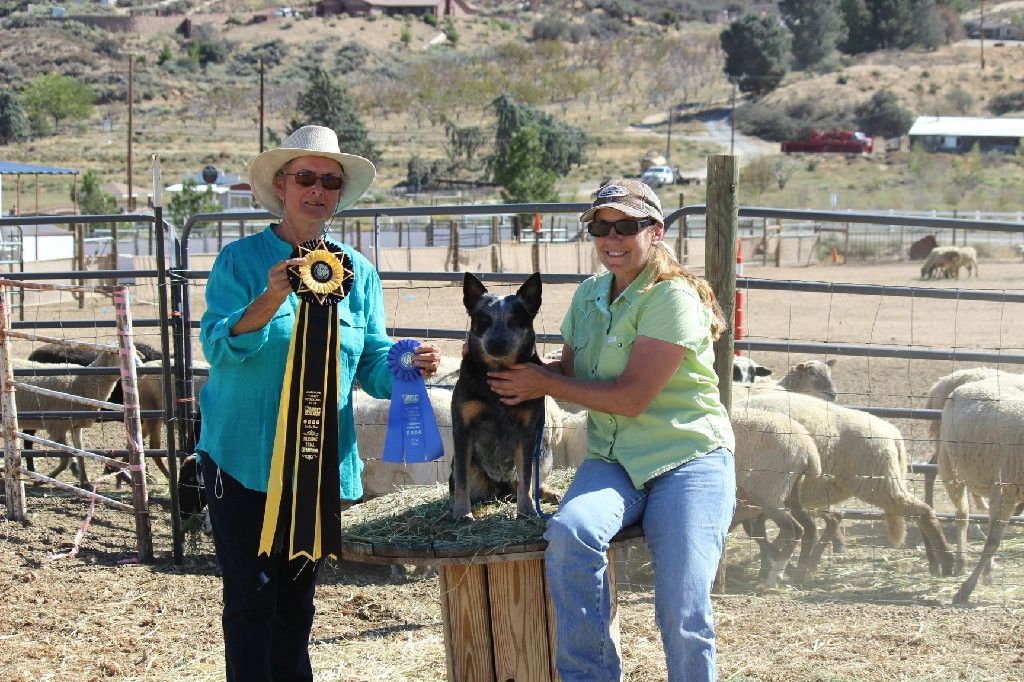 Shiloh is now our Third Dual Champion! She has earned her Herding Excellent Title on sheep and ducks & she earned her Rally Advanced title in only 2 shows and now her Rally Excellent. She quickly became a Grand Champion and will be doing lots more herding.
Click here to see Shiloh's Pedigree and pictures of her first litter of puppies.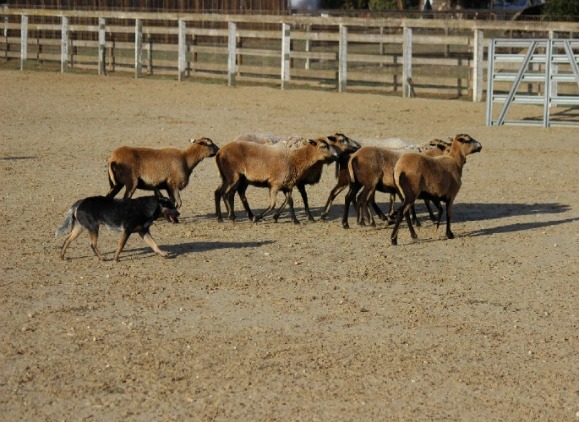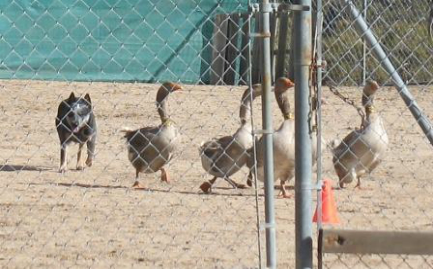 "Shiloh" working sheep & enjoys working geese too!
Below Shiloh earning her Novice JWW Pref title!

"CH Bar H Blue Camo" RN HSAdsM QW
'Cammie'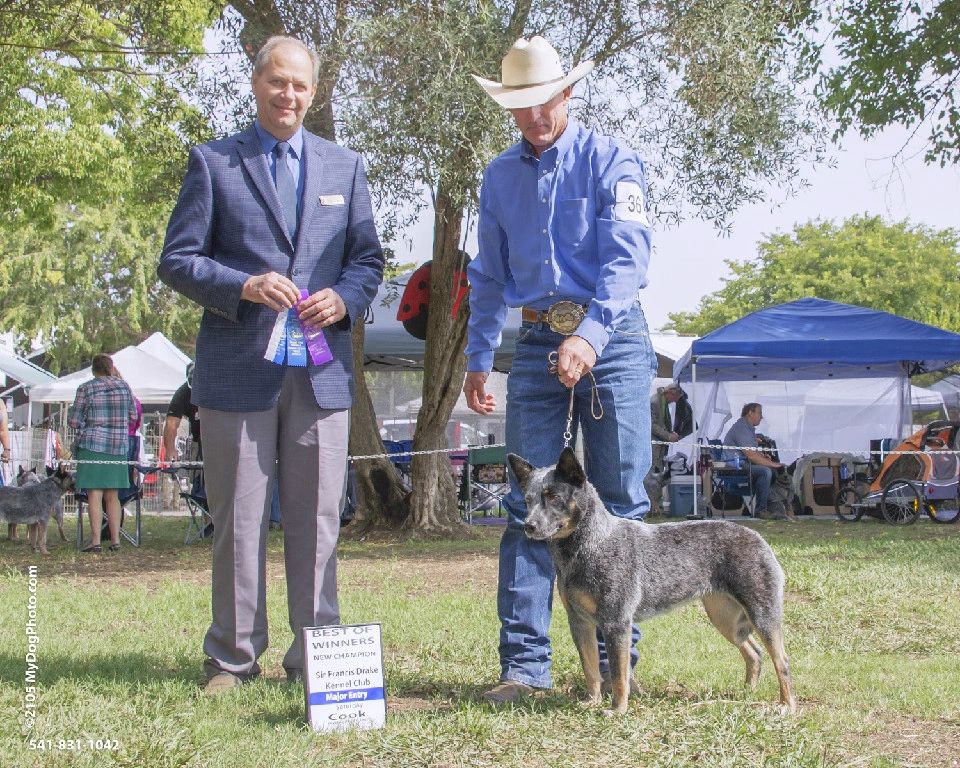 Judge: Mr. Dale Meyer, Jesse and Cammie with a 4 pt Major win to finish her Breed Championship.
She is another home bred girl out of Shiloh and Dozer
She earned her started sheep title at 2 yrs of age and has since earned her
Rally Novice title and started ducks in herding
Cammie is on her way to being our next versatility girl
Cammie & Lisa (Below) on their way to earning High in Trial at the ACDGLA 2017 Spring Classic Trial.
Cammie Q'd 4 out of 4 classes with a personal best high score of 96.5 pts.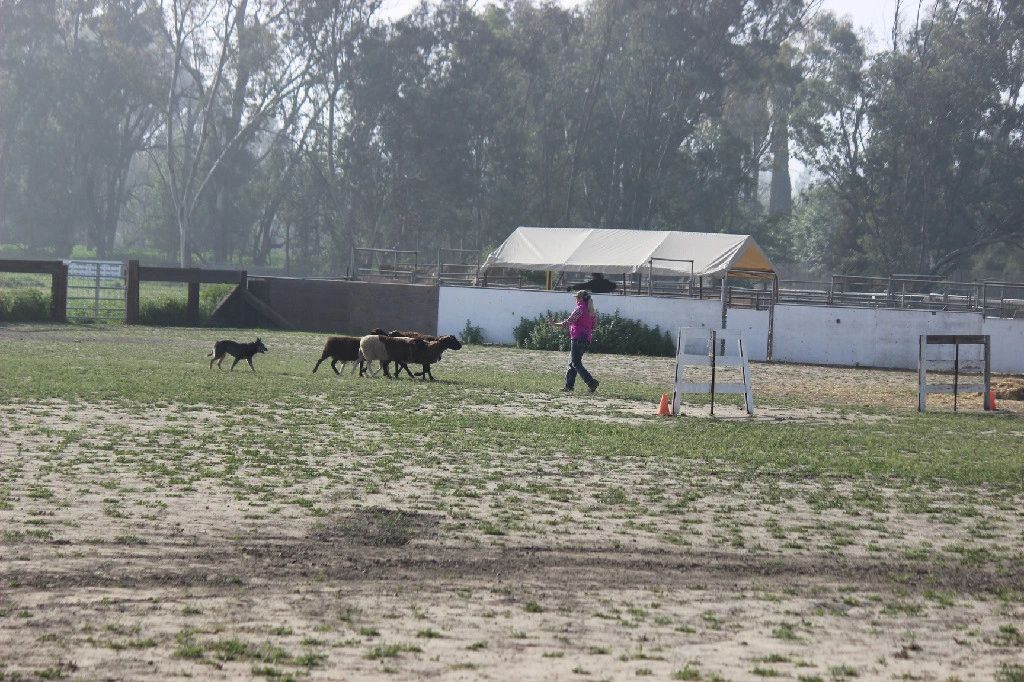 Below: Cammie has her Started Duck Title!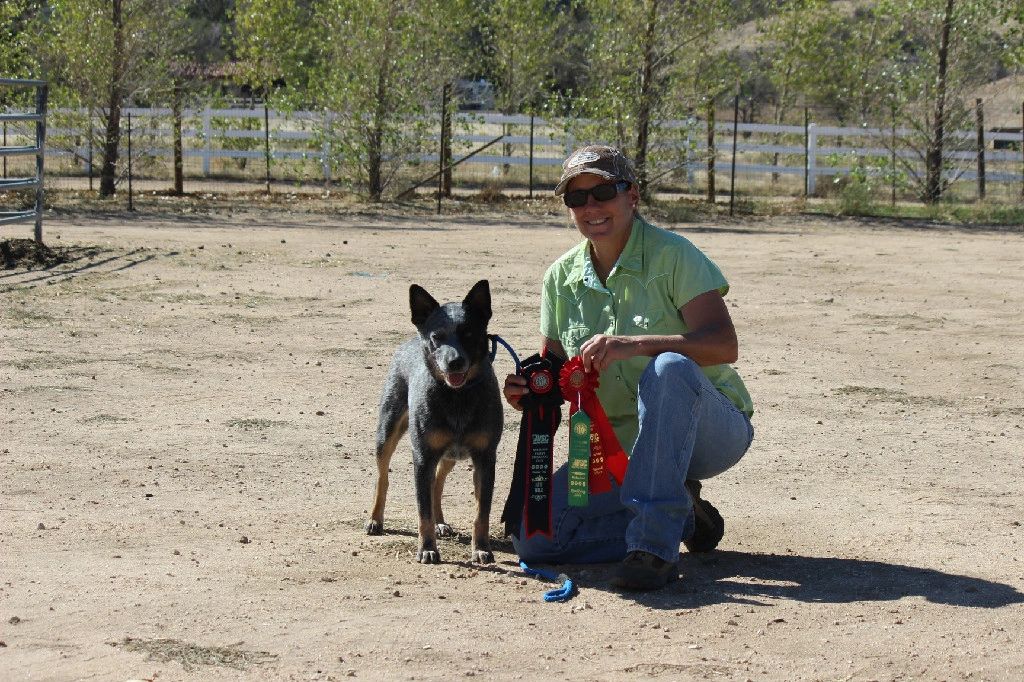 "Belle"

VCH CH Bar H Tinkerbelle Trail RAE HxAds HIAdsM HSAdMsMcM NJP QW CGC HTAD-I ge
"Belle"
Our Newest Versatility Champion and now working on her Dual....

Belle or "Little Belle" as we call her, is a full sister to Dozer and Lash and Bindi's daughter.
She was the #1 Australian Cattle Dog in the Nation from the started level in 2014 and
she was the Buckle winner on cattle at the ACDGLA Spring trial in 2016.

She has earned her advanced herding titles and is currently working on her Dual Ch.
Belle has her Novice Agility Title and her Rally Advanced/Excellent title as well. She's our all around girl
and quite the little girl on stock!


Above: Belle & Jesse were the 2016 winners of the ACDGLA Cattle Classic Buckle
Belle was the only dog to qualify on all 4 of her cattle runs



VCH CH
Bar H Tinkerbelle Trail RAE HxAds HIAdsM HSAdMsMcM NJP QW CGC HTAD-I ge

"Belle"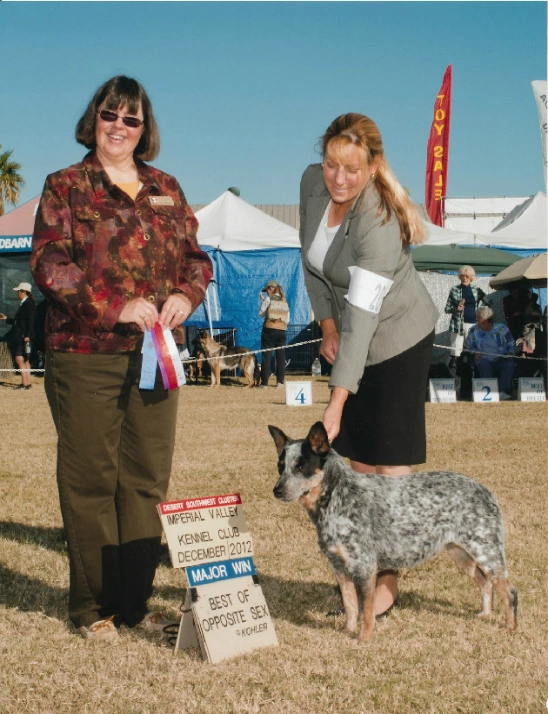 " Belle"

shown with judge Mrs. Alice Inman and Lisa winning a 4 pt Major and going
Best of Opposite Sex at the Imperial Valley Kennel Club show in Yuma, Arzona.


Introducing:
Bar H Josie Wales RN PT CGC
"Josie"
Josie is out of our girl, Lash and by CH Castle Butte Heza Ringer RN HSAs
She is also our good ole girl, Bindi's granddaughter.
Josie was the winner of the 18-21 month puppy sweeps at our 2016 National Specialty & 2nd place winner at the
2016 Cascade Regional Specialty and Placed 3rd in the Bred by Class at the 2016 ACDCA National Specialty.
This little girl is very close to earning her conformation Championship and has already earned her HT & PT in herding. She will be one to watch for!
Above: Josie & Lisa shown with Breeder Judge Pam Gipson
Below: Josie & Lisa with Breeder Judge Cheryl Kurpas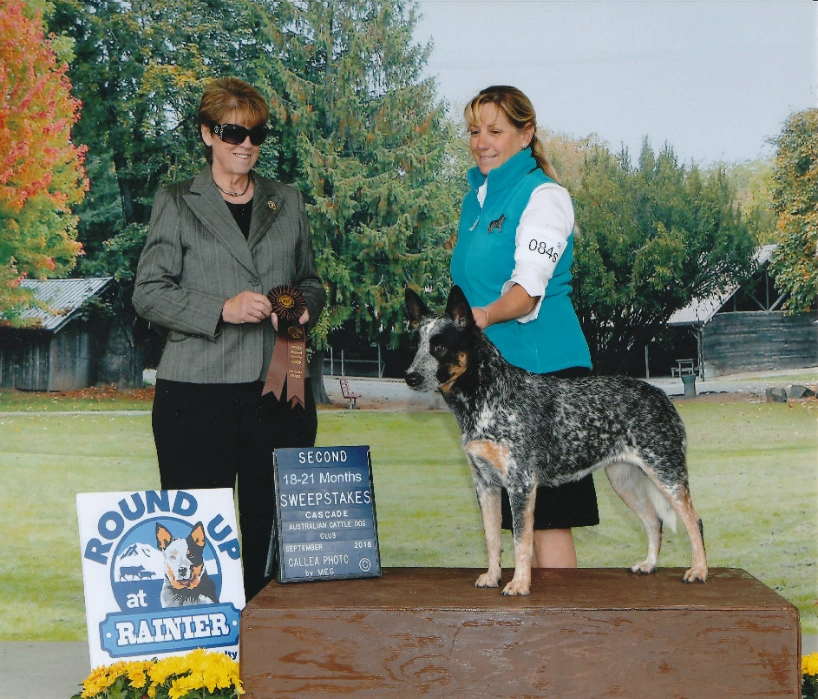 Also Introducing:
Bar H Packin Iron RN HSAs CGC
"Gunner"

Gunner is Josie's full sister and son of our girl, Lash
Gunner was High in Trial and won 2 Reserve High in Trials at the 2017 ACDGLA Cattle classic
He's on his way at only 2 yrs old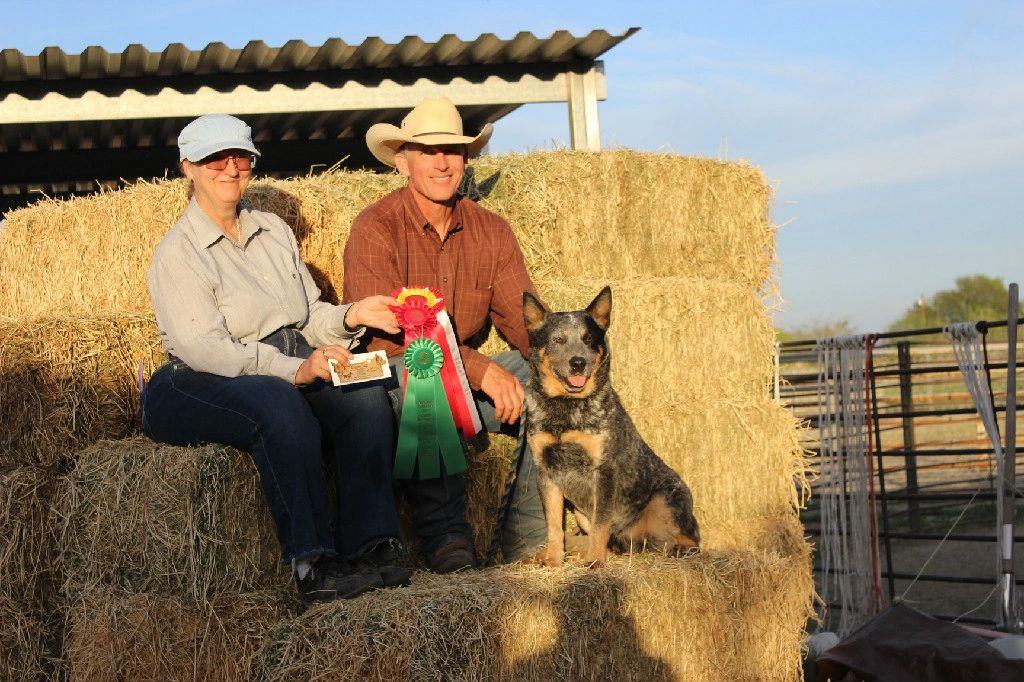 Above: Judge Peggy Richter, Jesse & Gunner

High in Trial and two Reserve High in Trials!


Below: Judge Molly Wisecarver, Jesse & Gunner & Judge Mary Alice Wisecarver